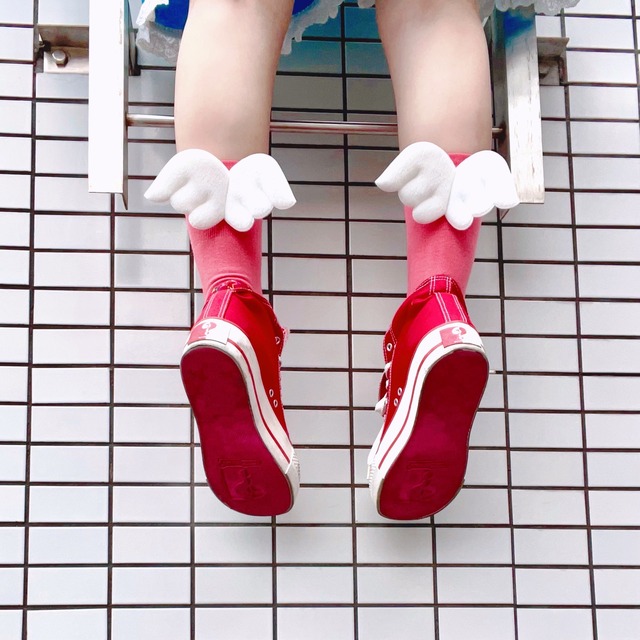 POP STEP ソックス フラミンゴピンク POP STEP SOCKS FLAMINGO PINK
SOLD OUT
Japan domestic shipping fees for purchases over ¥6,000 will be free.
Shipping fee is not included. More information.
【予約受注受付期間】
8/16(月)12:00~8/31(火)23:59

【発送予定時期】
10月上旬〜順次発送

※完全受注生産の商品です。予約受注受付期間を過ぎたご注文キャンセルのお承りは固くお断り致します。
※商品は決済完了順に発送される為、商品の到着に時間差が発生する場合があります。
※個別の発送日のご質問にはお答え致しかねますのでご了承下さいませ。(発送の際には発送メールが送信されます。)

----------

第一弾で人気だったPOP STEP ソックスの新色が出ました!
なんともかわいいカラーのフラミンゴピンク。
第一弾でGETした方も、色違いをGETしちゃおう!

Cute socks with the image of a lovely angel.
The point is that it sways when you walk.
The large angel wings for adults are a nice accent!

[カラー]
フラミンゴピンク

[素材]
綿100%

[サイズ]
フリーサイズ/羽16cm


※ご注意
モニターの設定状況によって、実際の商品と若干色が異なる場合がございます。
あらかじめご了承ください。

========================

[Period for order reservation]
8/16 (Mon) 12:00-8/31 (Tue) 23:59
* Based on Japan time.

[Scheduled shipping time]
It will be shipped sequentially from the first of October.

* This is a completely made-to-order product. We do not accept order cancellations after the reservation acceptance period.

* Products will be shipped in order after the customer's payment is completed, so there may be a time lag in the arrival of the products.
* We cannot answer individual detailed arrival dates and times. We will notify you by email when shipping.

※Caution

Colors may look different from the actual product depending on the monitor settings.
Please note.
Add to Like via app
Reviews

(17)

Shipping method / fee

Payment method
¥1,650 tax included
SOLD OUT